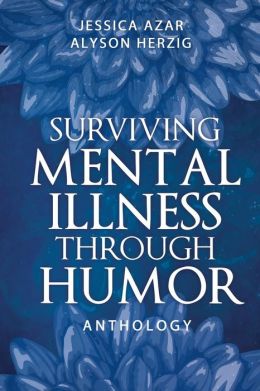 BOOK DESCRIPTION
If you're living with a mental illness, you're in good company. Disease doesn't discriminate; One in four people suffer from mental illness, and yet the stigma still remains. "Surviving Mental Illness Through Humor" contains stories of hope, despair, and hilarity by writers who are walking the mental health journey, as they discuss their experiences with Depression, Anxiety, Bipolar Disorder, Anorexia, Agoraphobia, Panic Disorder and more.
While the lows of living with mental illness can be devastating, the disease doesn't define the lives of these contributors, and it doesn't have to define yours, either. Some of these essays will make your heart ache, some will make you cry with laughter, but in reading this Anthology you will see that living with mental illness doesn't equal a life of endless misery. Join us as we 'laugh stigma into submission' by growing attitudes of acceptance and compassion.
To purchase "Surviving Mental Illness Through Humor," click here.
THE AUTHORS
Alyson Herzig
A former Jersey Girl, Alyson has moved to the Midwest but has kept her cynical sarcastic ways. She shares the many disasters and epic fails in her life on her personal blog, TheShitastrophy.com. She helps all her readers realize they could have it a lot worse, they could be her. From family debacles to observational wit she bares it all.
Alyson has an essay in the anthology My Other Ex, Women's True Stories of Leaving and Losing Friendships, as well as in the anthology Not Your Mothers Book On Working for a Living. Alyson is also the co-creator of a soon-to-be released anthology titled Surviving Mental Illness with Humor.
Jessica Azar
Jessica Azar, writes while raising four stair-step kids, known affectionately as The Herd, with her husband and college sweetheart in her Alabama hometown. She blogs at Herd Management and humorously details the adventures and mishaps of being a homeschooling, work-at-home-mom. She also happens to like running and Single Malt Scotch a whole lot. Jessica co-edited a mental health anthology entitled Surviving Mental Illness Through Humor, and has had essays published in humor anthologies like Clash of the Couples. She is a Huffington Post Blogger, POPSUGAR Select Blogger, a NickMom Ambassador/Writer and does marketing work for various prominent brands. Her published work can be read on POPSUGAR, Huffington Post, Scary Mommy, NickMom.Com, Venn Magazine, BluntMoms and other online locations.
MY THOUGHTS
Okay, I am a little biased towards this book, because a short story of mine entitled, "The Attack," was included in this anthology. With that aside, as someone who has suffered from anxiety attacks, depression and at times agoraphobia, I really felt in good company with the other contributors. Ten years ago, I viewed myself as some kind of a freak of nature, unable to break out of the prison I was in. While I am not "cured," I am taking part in the world again. "Surviving Mental Illness Through Humor," reminded me that I am not alone in the world. While mental illness is nothing to joke about, those of us who have one form of it or another have learned that laughter is the best medicine. We have shed enough tears, it is time to let out a few laughs.
Not only do I thank Alyson and Jessica for including me, I appreciate their efforts to bring further awareness to the subject.