Okay, so, I've completed another draft on the Great Depression novel. It was a small one; just some minor suggestions that my sister gave me. This is quite possibly the longest thing I have ever written. Maybe too long… not quite sure about that. It's not ready for an agent to look at. This WIP needs a few more drafts, at least. Polishing, mostly. Of course I'm at a loss as to what to do with it now. Fleshing out, character development, back stories, historical facts- that is never my problem. It's cutting the unnecessary scenes and whatnot. I never know what is not needed.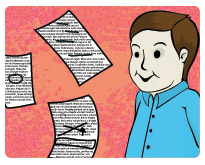 Once upon a time, I belonged to a writer's workshop…for senior citizens. I was an honorary senior citizen at twelve years old. It was a family affair, really. My aunt led the group and she invited me to join, then my grandmother started to attend. One time a cousin of ours visited. I think my Mom and sister sat in on one of the meetings. It was great; I learned a lot from the women and men there. Some of the stories they told inspired this novel (they were part of the Greatest Generation). Now, my sister and a friend of mine reads my various projects and they offer great critiques. For the most part I'm skittish about showing anyone my WIP's. I worry that they'll think I'm odd or strange or nuts for writing this or that. Or worse, they may not like it at all and like many writers, I take criticism personally.
But with the Great Depression story, I want to show my friends and family and get their feedback. Perhaps because many of them inspired this story too. They had a hand in it without knowing it. Still, it's frightening to be so public about a project of mine, because there is always that underlying fear that the agents and/or the publishers won't want it. Then I'll be embarrassed for talking up this story.
Sometimes being a writer just plain sucks.
"I hate writing, I love having written." Dorothy Parker.